The use of most advanced nanotechnologies available for air purification systems and our strategic agreements alliances with leading manufacturers, are our key to offer a wide range of products which are highly efficient and which regenerate clean air and improve air quality of interior living spaces, creating biohealthy environments.
Our air purifiers are capable of eliminating a wide range of contaminant gases, smoke such as tobacco, formaldehyde, and Volatile Organic Compounds and are particularly well suited to eliminate VIRUS, BACTERIA, ALLERGENS, FUNGI, and MOLDS, guaranteeing air quality improvement in our homes, your vehicle as well as your work space.

OpenAir purification systems are suited with the most advanced and efficient technologies available for elimitating or reduce harmful contaminants, including HEPA and Electrostatic Filtering, Negative Ionization, UV Treatments and advanced oxidation techniques such as the Heterogenous Photocatalysis process, acting in synergy integrated in a wide range of equipment available now.
One of the most innovative features has been the incorporation of built-in monitoring sensors which automate its performance by activating them when the air quality degrades to undesirable preset thresholds. This sensors optimizes its energy usage and thus achieving the lowest levels of electricity consumption.
These technologies are integrated under a wide range of products which are easily installed, and maintained, and simple to use, needing only to be connected to the electrical grid and then to begin enjoying the benefits of air purified from a wide range of contaminants.
There are versions tailored to the residential consumer such as the portable and desktop units suitable for both home and work-office settings, including the vehicles used for transportation to and from work.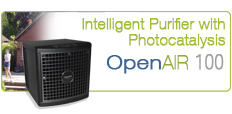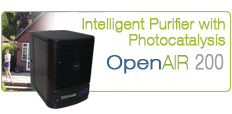 Our semi industrial autonomous units are the perfect complement for any HVAC system already installed. We offer different models which can be retrofitted in wall or ceilings, as well as mobile and portable units suitable for various room and interior spaces.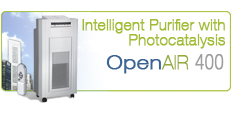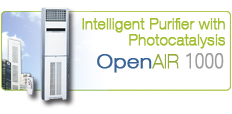 These are ideal for hospitals, schools, public buildings, and government sites, as well as corporate settings or social function venues.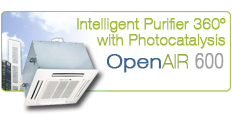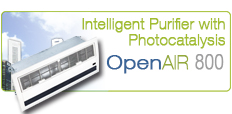 For existing HVAC systems we offer photocatalytic filters which can be retroffited in most sytems presently operating in corporate offices, hotels, and both residential and commercial settings, thus providng a biohealthy air quality to its tenants.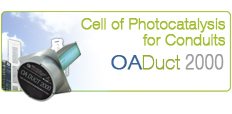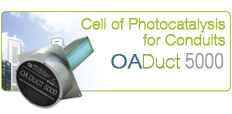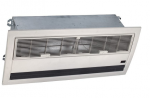 Download catalogue
Purificador de aire profesional OA 800
.

Download catalogue
IonCare GH2121
Advanced Photocatalyst Air Purification for your vehicle. Uv light and Nanotechnology coating to depurate the indoor air of harmful gases that your standard filters can´t depurate. Easy to use solution that one needs to be plugged in the cigarette lighter socket.